I just love it when things all come together!  My mega tree will consist of 16 Red, Green and Blue LEDs Strings 4 meters long.  They were purchased towards the end of last years season from Big -W.  Members on DoItYourselfChristmas.com also helped out filling in missing strings, thanks to (Polar Bear and wjohn).  Each string operates at 36v.  Current limiting resistors have been placed in series with the LEDs. Below is the base plate, 4mm Alum (from Offcuts galore) with the 36V 350W SMPS and 3x DC Serial Solid State Relays.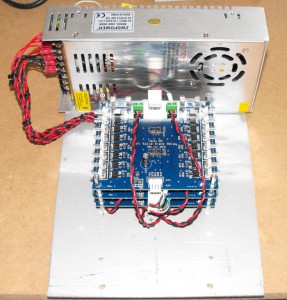 The heart of the tree's light control will be my own DMX controller.  Expandable able to 64 channel, only 48 are being fitted for this year.  I may add White next year, we will just wait and see. As shown below, most of the repeatable work is done by using my DMX Mega BreakOut boards, leave new developments like LM2574 based Switch Mode Power Supplies.
The DMX controller will be fixed on top of the DC Serial SSRs using 18mm Stand-offs.  Details of the DMX Mega B/O board are here
The DMX controller is based on RPM's of DoItYourSelfChristmas Grinch Dimmer.  The Main differences is the removal of the Zero-Cross detect / interrupt circuit and AC power supply.
I will also be adding Remote Device Management (RDM) for address management at some future stage.  For now the Start Address is programmed by transmitting the address in Channels 1 and 2 and pushing SW1 down on power up.
Update – 3/07/2010
I got to spend a little bit more time on the controller today.:
Added a power switch
Worked the Earthing ( This box will be Earthed not Double Insulated)
Screwed the AL plate holding the Controller and PS into the box.
Update 1/08/2010
happy birthday to all the horses.
Spend some more time on the controller.
Update 16 August 2010
Turned the controller on last night with 18 strings connected.  One word describes the feeling: Sweet.  All 48 channels were tested. Sweet.  Ran it overnight: not so sweet – even with the doors to the bedroom closed, our room still glowed green.